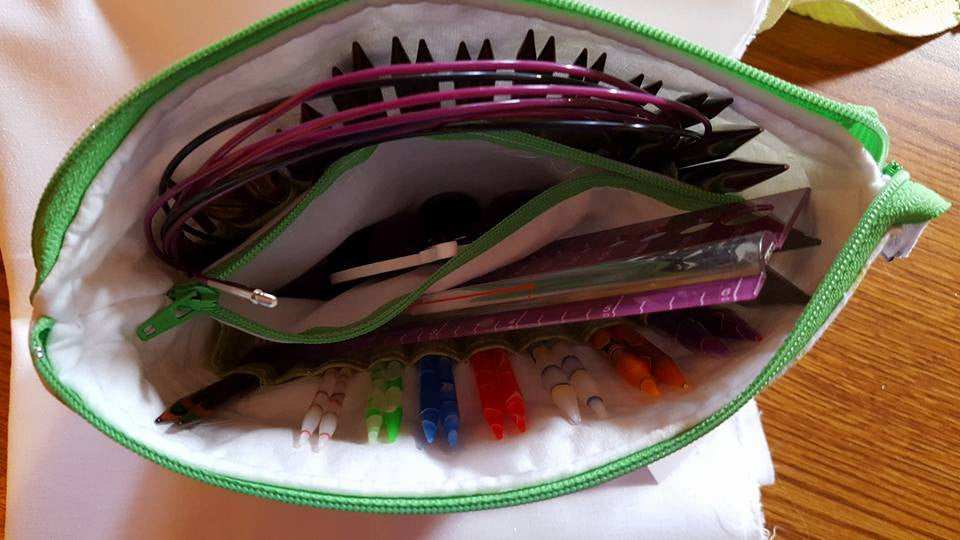 INTERCHANGEABLE KNITTING NEEDLE POUCH
Regular price $39.60 Sale
INTERCHANGEABLE KNITTING NEEDLE POUCH
Looking for a way to conveniently store interchangeable knitting needles? I have a solution. My zippered closure needle pouch.
These bags can hold up to 2 complete sets of interchangeable knitting needles. With plenty of room for a set of 11, 13 & 17 sized tips.
They come with 22 slots, and 1 zippered inner pocket. The inner pocket can easily store small items like keys, extenders & caps.
There's also plenty of room to fit Knit Picks & Knitter's Pride Needle Gauges inside, and of course all cables.
Made with 100% cotton. The outside is lined with fusible fleece, and inside with interfacing. This makes for a soft but sturdy case to protect needles from breakage. I try to include a matching zipper pull.
The pouch conveniently fits on end, in the middle outer pocket of all drawstring Project Bags made by me. So if I have them in stock you could purchase matching or mismatching sets.
Dimensions: 5 1/2 " tall X 3" by 5 1/2" bottom X 8" wide
***One photo shows the inside fully stocked as described above, BUT CONTENTS NOT INCLUDED. All purchases are for the pouch only, and the photo is for demonstration purposes only!***